As a long time fan of pixel art action platformers I'm always on the lookout for upcoming games that look exciting to play. Some of the things that catch my attention aside of from the kick ass pixel art are the game mechanics and combat system. So without further ado there my top 5 action platformers that i am eagerly awaiting…and have been for some time now.
The Last Faith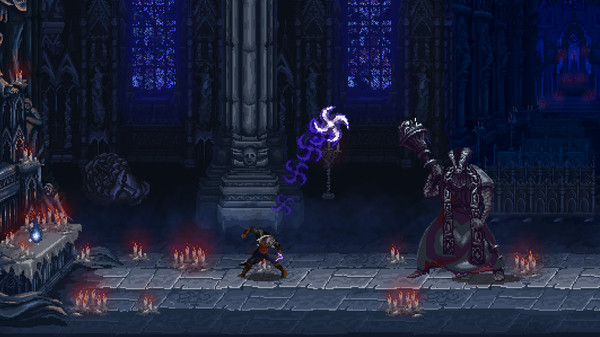 This game caught my attention after playing a similar game called Blasphemous – having enjoyed that game a great deal it should be no surprise that the last faith would be first on my list. The Last Faith, by Kumi Souls Games, has a Castlevania influence in terms of art style, character designs and gameplay but certain parts of the gameplay trailer also reminded me of God of War – the hydra boss fight in particular. The animations in the trailer look great and the combat system looks pretty solid so here's hoping that this one turns out to be as much fun to play as the trailer looks.
Gestalt Steam & Cinder
Announced several years ago, Gestalt Steam & Cinder by Metamorphosis Games, has a beautiful pixel art cyberpunk aesthetic. The environments in the gameplay trailer look great and the combat system looks to be a blend of melee combat and shooting mechanics. I don't know much more about the game aside from what I've seen the trailer but I really hope this one gets released before the end of 2022.
Savior
If you were a fan of LucasArts pixel based games back in the 90's such as The Dig and Indiana Jones and the Fate of Atlantis then Savior should definitely be on your wishlist. The development team of Savior is comprised of former developers of LucasArts and it definitely shows in the art style and animations. As soon as I watched the very first gameplay trailer I knew there something very familiar about the game…it just had that 90's pixel art style that I grew to love during my teenage years. Another thing that stood out for me in the gameplay trailer was the parkour style of platforming which I don't recall ever seeing in any other platformer so that just built up the hype for me even more. It was originally planned to be released in 2021 but it got pushed back to 2022 and by the looks of it will probably be pushed back to 2023…but one can hope.
Bushiden
Being a long time fan of games like Strider and Hagane, Bushiden by Pixel Arc Studio looks to be right up my alley. The game mechanics look to be a blend of the two games aforementioned and the pixel art style hearkens back to the action platformers of the 90's. I really hope this game has an awesome soundtrack to accompany it because what good is an action platformer of this caliber without a hard hitting ass kickin soundtrack? This game too was pushed back to a 2022 release date and by the looks of it will probably be pushed back to 2023.